WELCOME TO PRESS 195

marinated sliced steak, Provolone and pineapple sesame Sriracha sauce

#45: STEAK SRIRACHA

TASTY SALADS

crispy panko breaded chicken, Romaine & Tangy Blue Cheese Vinaigrette

CRISPY CHICKEN SALAD

PRESSED SANDWICH ART

Fresh Ingredients, pressed to perfection on handmade Ciabatta Bread!

#25: EGGPLANT PARMESAN

A TWIST ON TRADITION

Tender seasoned brisket
pressed in a knish

THE BRISKET KNISH

BRIOCHE BURGERS

Choice of prime beef, ground chicken or veggie burger
served on brioche bread

THE 195 CLASSIC

OUR FAMOUS BELGIAN FRIES

hand cut and double cooked
for the ultimate fry!

YOUR CHOICE OF 7 SPECIALTY DIPPING SAUCES
BAYSIDE,
QUEENS
4011 Bell Boulevard, Bayside, NY 11361
Phone: 718.281.1950
Happy Hour At The Bar: Mon to Fri 12pm-7pm
ROCKVILLE CENTRE, LI
22 North Park Avenue, RVC, NY 11570
Phone: 516.536.1950
Happy Hour At The Bar: Mon to Fri 12pm-7pm
HOURS &
CATERING
Both locations open 7 days a week except holidays
Sun-Wed: 11:30am -9:45pm
Thur-Sat: 11:30am -10:45pm
LOCAL DELIVERY AVAILABLE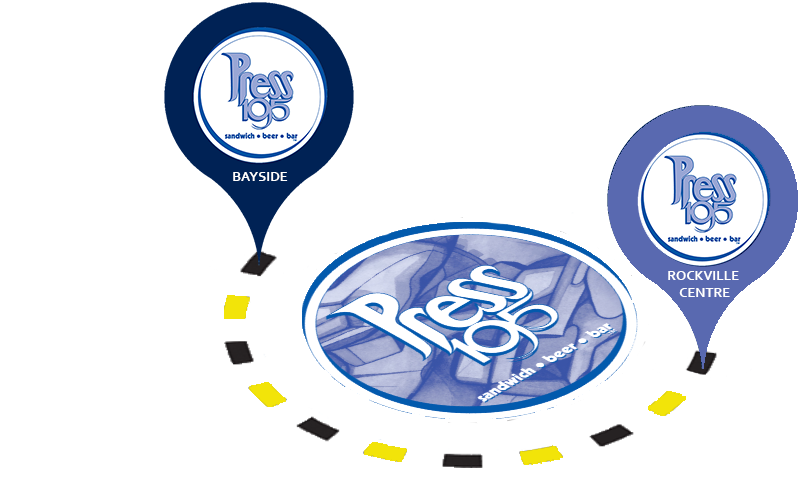 FIND PRESS 195
Click below for driving directions. Don't want to drive then take the LIRR...the Port Washington Line to Bayside or the Babylon Line to our Rockville Centre location and we'll be waiting for you!
ABOUT PRESS 195

Brian, Chris, Jimmy and John want you to experience what comfort dining should be: fresh ingredients, home-cooked goodness, and an extensive craft beer list along with a creative cocktail menu. Serving lunch, dinner and late-night snacks seven days a week, Press 195 offers a comfortable, relaxed, friendly environment that will make you feel at home. Stop in, grab a bite, kick back and relax.
THE "PRESS"
ON PRESS 195
VIDEOS & REVIEWS FROM ALL OVER NEW YORK AND BEYOND
VIEW OUR MEDIA PAGE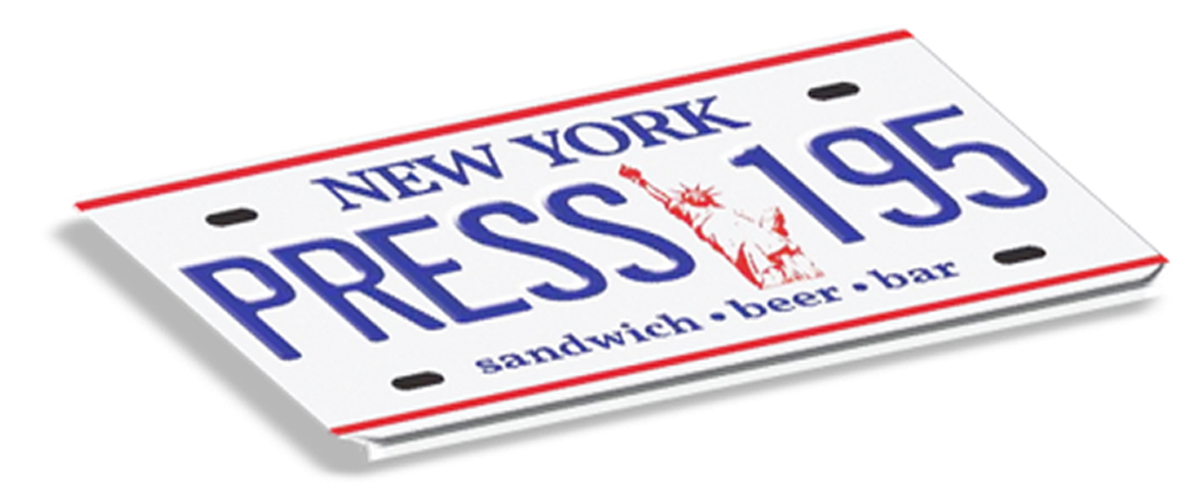 GIVE THE GIFT
OF PRESS 195
Who doesn't want the gift of a Pressed Sandwich. Send someone a gift card today!
GET A GIFT CARD NOW